Restaurant SEO Case Study - Benjyehuda
How restaurants can leverage SEO Marketing: The first page of search results is prime real estate for driving new diners.
Addressing SEO Challenges
Benjyehuda, a beloved Shawarma shop with multiple locations in Chicago, recognized the need to amplify their online presence. Despite a strong local following, their catering presence, and essential keywords were buried on the 10th page of Google search results. The company needed a way to attract more customers to their unique offerings of gluten free, vegan and dairy free catering.
By optimizing for relevant keywords, their website attracts nearby customers searching for dining and catering options. These locals are more likely to become regulars and recommend the restaurant through word-of-mouth.
Benjyehuda partnered with PageOneRestaurants and Relevant Elephant to devise a comprehensive digital strategy focusing on enhancing their catering program. The challenge was to drive targeted traffic to their new catering page and increase the amount of orders. Together, the restaurant and marketing team collaborated closely, conducting extensive market research and competitor analysis. They optimized the website with strategic keywords, leveraged local SEO techniques, and crafted engaging content highlighting Benjyehuda's unique gluten-free, vegan, and dairy-free catering offerings. Through seamless social media integration, they nurtured a vibrant online community and fostered a robust digital presence.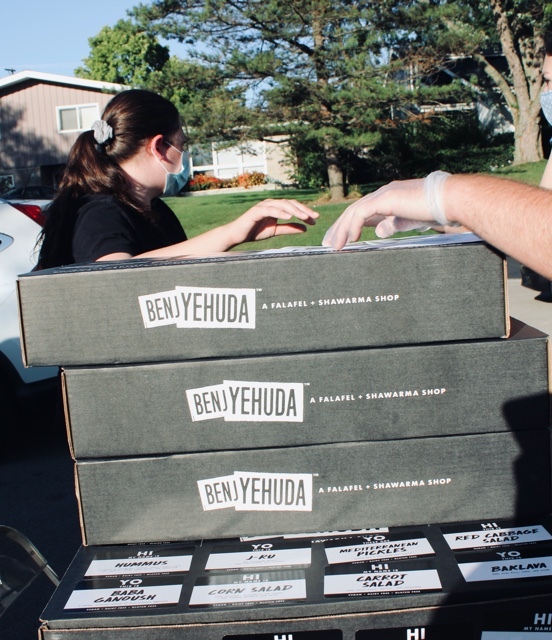 Implementation of Marketing Strategies
Strategic marketing solutions elevate restaurant sales through digital channels by enhancing visibility, engaging customers, and optimizing online presence.
Impressive Click Increase with SEO
Benjyehuda's website experienced a remarkable surge, with clicks soaring from 1000 to 6,000 per month. This surge in clicks resulted in a massive increase in catering orders. A site optimized with the right keywords has immense potential to gain new business. SEO should be a top priority for restaurants wanting visibility and growth. By continuously monitoring SEO performance, restaurants can maximize their reach, clicks and conversions.
Dominating Local Searches
By implementing a robust local SEO strategy, Benjyehuda's individual locations not only became more discoverable but also gained prominence on Google Maps. Local search engine optimization (L-SEO) is a crucial marketing strategy for restaurants looking to drive new business. With localized SEO, a restaurant's website can rank at the top of search results when potential customers look for dining options online.
The transformation of Benjyehuda's online presence exemplifies the remarkable outcomes achievable through strategic digital marketing. By refining keywords, enhancing local SEO, creating engaging content, and integrating social media, we facilitated a significant increase in clicks and established a robust online footprint.
Stop Posting.
Start Marketing.
Super Charge Your Social Media